Anokha Ladla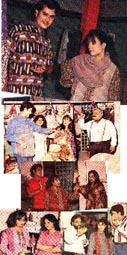 Starring: Shahood Alvi, Sadia Imam, Saman, Agha, Kainat Zaidi
Written by: Bushra Ansari
Directed by: Iqbal Ansari

This long play revolves around the only brother of five sisters, Shahood Alvi, who all run a boutique. Being the only male member in a household of six, Shahood is a bit effeminate and very much under the control of his five over dominating sisters. Everything is running along fine till one day a daughter of a colonel, Sadia Imam, comes to their boutique to do some shopping and falls in love with Shahood. Now she is shown to be a total tomboy who does not hesitate at all to propose to a sissy and finally gets married to him at gunpoint. What happens next and how do the five sisters react should be seen. Bushra Ansari's script was very good and a complete contrast to her earlier venture Neeli Dhoop and it was well appreciated by the viewers. A worth watching comedy. -by Gina.