Bhutaan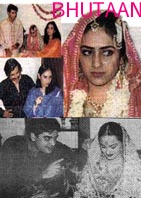 Starring: Nosheen Tariq, Humayun Saeed, Javeria Abbassi, Aijaz Aslam, Khalid Ahmed, Sultana Zafar, Farida Raheel.
Written by: Mohammed Ahmed
Directed by: Naila Jaffery
Telecasted in May 1999 during the drama festival on NTM.

Based on a true story, the long play Bhutaan deals with the story of a young woman Saima (Nosheen Tariq) who has to bear the illicit advances made upon her by her husband's uncle while facing the wrath of her in laws.
Saima is married to her first cousin Sabir (Aijaz Aslam) and comes to Karachi to her in law's house. A week or so after the wedding Sabir leaves for abroad on a job for one year. Saima is at first showered by extereme love by her mother-in-law (Sultana Zafar) and sister-in-law Sobia. Also living in the same house is Bhai sahab (Khalid Ahmed) who had lost his family during partition and was then adopted by Sabir's grandfather. He is a highly respected and loved person by the entire community. He tries to make sexual advances toward Saima who writes a letter to her husband. Before the letter could be mailed, Bhai Sahab tries to rape Saima and when caught puts all the blame on her. Her in-laws lock her up in a room waiting for Sabir to return.
Soon Sabir and Saima's brother arrive. Saima had been waiting anxiously for Sabir to return as she felt that he will help her out. What happens when Sabir returns? The play was excellent. The writer and director both excellently portrayed the evil persons present in our society who have hidden their sins under the cloak of piety. Hats off to the whole unit and Naila Jaffery her first time directing. Nosheen Tariq excelled in her role. She has turned out to be a brilliant performer. -by Gina.