Chupkey Se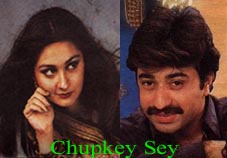 Released March 13, 1999. A long play
Starring: Yasir Nawaz, Jana Malik, Shugufta Aijaz, Mehmood Aslam, Basit Khan, Mohsin Gillani, and a couple of new youngsters.
Mehmood Aslam is Chaudhri Farhad a landlord who only thinks in the terms of monetary gains. He has leftmenu children Asghar and Kiran. His elder brother Sajjad returns from America for a visit with his leftmenu children Daniyal (Yasir Nawaz) and Nimra. Bringing them home they stop at their lands and Daniyal moves away from the rest to do some photography and sees a girl and is struck by love. That girl is Eisha (Jana Malik), daughter of a neighboring landlord (Basit Khan), whose lands Farhad is insisting to buy at all costs. Well as things happen in all love stories they meet again at a party at Chaudhry Farhad's house and Eisha too happens to like Dani which is further increased after she listens to him play hauntingly beautiful music on the violin (too sappy!). There is only one catch: Daniyal cannot speak. So Asghar decides to help out his cousin and speaks on the phone for Daniyal but soon falls in love with Eisha himself and now starts planning to remove Dani from in between. When Dani finds out he is shocked and heartbroken but is unable to express his feelings and leaves home. Eisha also finds out the truth and leaves Dani. Dani can't handle all the bad news and collapses with a very high fever. Now both the fathers send in proposals for Eisha for their sons and Eisha's father asks her but she can't decide so the father says to both of them. Dani heartbroken decides to go back to America, but love does triumph after all. Yasir Nawaz was amazing in his role of a mute person and his expressions were very good. An extremely touching play.