Kalash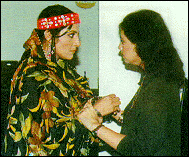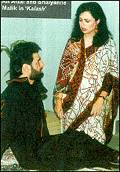 Released: March 1998 On 4 cassettes
Starring: Mohmammad Afzal Khan, Qavi Khan, Sidra Khan, Shayan Malik, Mahek Ali, and Jamshed Ansari
The play didn't impress me much. It was about a guy (Shaan) who goes to Kalaash and in that oh so beautiful and romantic atmosphere finds himself a girl and marries her. The girl (Zur gul) can hardly speak any urdu so they communicate by saying "ok". The first few episodes drag on for no particular reason while our hero enjoys the beauty of Kalaash. Finally we get back to the city where his dominant father awaits him and gets him married to his motorbike riding cousin. Things are fine for awhile but when Zur Gul comes to town Shaan has to juggle his schedule between the leftmenu wives and his work. The acting was average and Jamshed Ansari is there to provide some funny lines. Needless to say the play is not worth watching unless you're starving for one.