Karoron ka Aadmi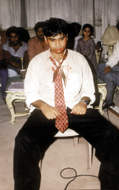 Currently running on TV. (Oct. 98).
Written by Zubair Abbasi, directed by Shamoon Abbasi. 9 episodes.
Starring: Sadia Hussain, Humayun Saeed, Humayun Naz, Abida Zaki and others. Story of friends where one goes into the life of crime in order to earn as much money as possible. Sadia Hussain plays a rich proud wife of a meager husband. The story focuses on how greed can make a person lose his human values and priorities.