Khaali Haath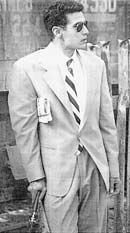 Released: January 1998, on 3 cassettes (7-8 episodes)
Starring Saadia Imam, Marina Khan, Farhan Agha, Badar Khaleel and others.Written by Zubair Abbasi and directed by Fahim Burney
The play is wonderfully done and nicely acted out. Saadia Imam and Marina are daughters to a rich arrogant man who only has time for his business. Marina is mentally challenged, but according to some opinions her acting is a bit too hysteric and over done.The guy who stole the show in my opinion is Kanwal Mohammad who plays Modi, Marina's friend. Farhan does a ok job playing opposite Saadia Imam. Although I must admit, he does a better job playing the angry guy...the "sha'ir" act doesn't suit him real well. The new guy who plays Umair does an ok job too. Overall it's a good play to watch!