Mera Muqadma Tum Laro Gay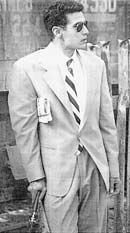 Directed and Produced by : R. H. Kabir
Starring : Mahnoor Baloch, Farhan Ali Agha. (2 episodes)
A beautiful interplay of human emotions and psychology pivoting around leftmenu main characters. A good portrayal of stereotypical households and greedy psyche of our society. Farhan is an up and coming lawyer who falls for the new secretary (Mahnoor). They get married and the hubby becomes a money making machine, tries to buy dreams for his love, without realizing that the wife needs a husband first, be it poor or rich. And the wife initially goes along thinking money was HIS dream. But the moment of truth finally arrives- both of them must look deep into themselves and try to hold on to what they cherish the most...their love for each other. -Faysal.