Doosra Aadmi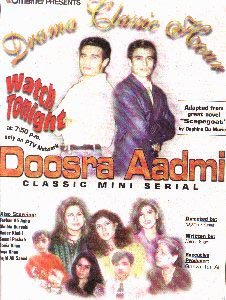 On 2 cassettes; Eight episodes;
Starring: Farhan Ali Agha, Shehla Qureshi, Seemi Pasha, Sonia Khan, Zoya Khan, Sajid Ali Saeed, Taj Niazi and Badar Khalil
Directed by Najam-uz-Zaman
Remake of Doosra Aadmi (1978) starring Usman Perzada in the lead role. It is an adaptation of Dephine DuMaurier's book The Scape-goat
On

his holiday trip, college professor Aftab runs into Jamal who is quite literally his mirror image. Little does Aftab know that this meeting will end up costing him his identity. Aftab finds himself in Jamal's shoes while his look alike Jamal has mysteriously disappeared, Helpless and intrigued Aftab decides to play along with Jamal's bizarre game and take on his role.
Aftab tries to understand Jamal's lifestyle and relationships which he finds are often misplaced and misunderstood. He finds out that Jamal has made his own life miserable because he didn't know how to deal with the people around him.
The viewer is left guessing how Aftab will interact with these new found relatinoships which are thrusted upon him from a guy who's running away from his own identity. Farhan has performed well in his dual role of Aftab and Jamal. Definitely a must watch for 1999.